48W Large Laser Power
As the most cutting-edge laser engraving machine, ATOMSTACK S40 Pro has the highest optical power of 48W in the industry, which is suitable for professional work and greatly improves work efficiency. It can cut through 19mm basswood, pine and paulownia wood, and 9mm MDF density board at one time. At the same time, it can cut through a 0.1mm stainless steel sheet at one time.
Switch Engraving/Cutting Mode with One Click
ATOMSTACK S40 Pro adopts a new laser design, which can switch between 24W and 48W output power with one click of a physical button. Different modes can be turned on for different engraving and cutting tasks, allowing both fine engraving and powerful output.
New Movement Structure
Different from Atomstack's previous machines, the Atomstack S40 Pro uses a linear guide X-axis with a stable and better structure, which allows the S40 Pro to work stably at a high speed of 30,000mm/s, and the engraving and cutting lines are smooth without jitter.
Tank Chain Take-Up
In order to make the machine more beautiful and the structure more stable, Atomstack S40Pro adopts a tank chain wire bundling solution that is not found in other models. The wire harness runs smoothly without getting entangled, and the wire life is improved.
Automatic Switch Air Assist Kit
The standard F30 Pro high-flow air assist can turn on the Lightburn M7 mode to automatically switch the air assist on and off in different cutting/engraving modes. The cutting capacity has been greatly improved, and the cutting accuracy and cutting quality can also be significantly optimized, making the Atomstack S40 Pro a truly professional laser-cutting machine.
Wide Compatibility
The machine is compatible with various mature engraving software, such as LaserGRBL and LightBurn. It supports Win XP / Win 7 / Win 8 / XP / Win 10. It also supports the Mac system (LightBurn). The engraving file format supports NC, BMP, JPG, PNG, DXF, etc.
Upgraded Compressed Spot Coupling Technology
The ultra-fine laser focus area is reduced to 0.1x0.1mm. The high-density laser can easily cut thick wood boards and black acrylic; it can directly engrave mirror stainless steel metal, ceramics, and glass. The engraving and cutting speed is 40% higher than that of 30W and is comparable to the 80W CO₂ laser. The cutting effect of the engraving machine.
Security Protection
It is equipped with an emergency stop button to stop the machine at any time if an unexpected situation occurs. It is also equipped with a reset switch and a limit switch to make engraving safer.
Expandable Engraving Size
The modularly designed body mechanism allows you to obtain a large engraving size of 850*400mm by simply replacing the Y-axis frame assembly (not included).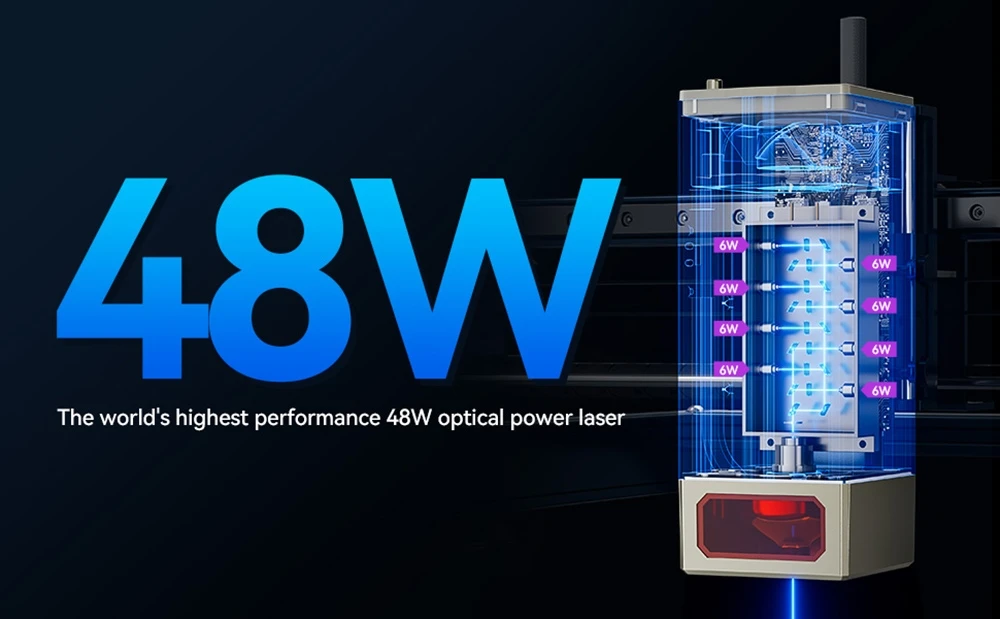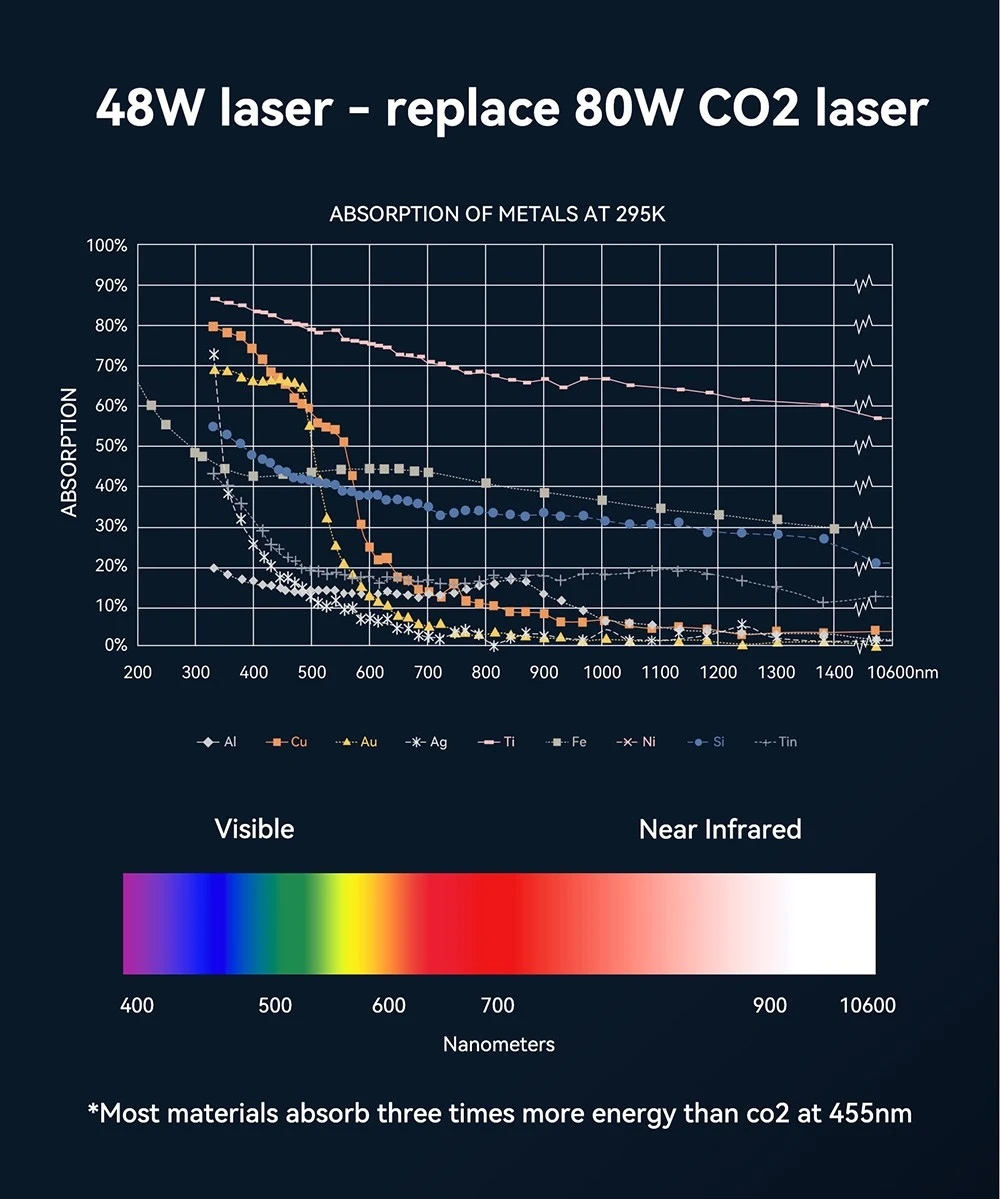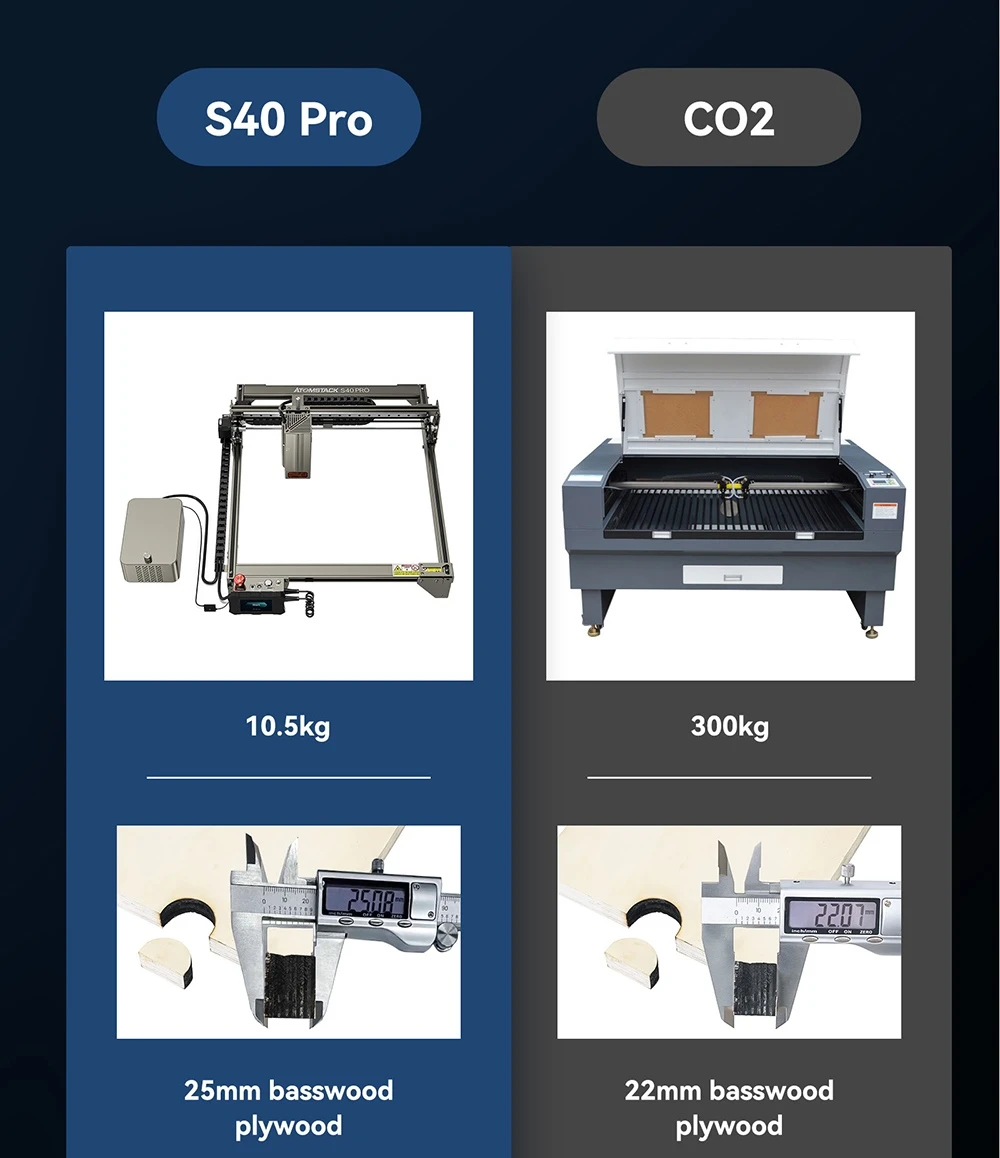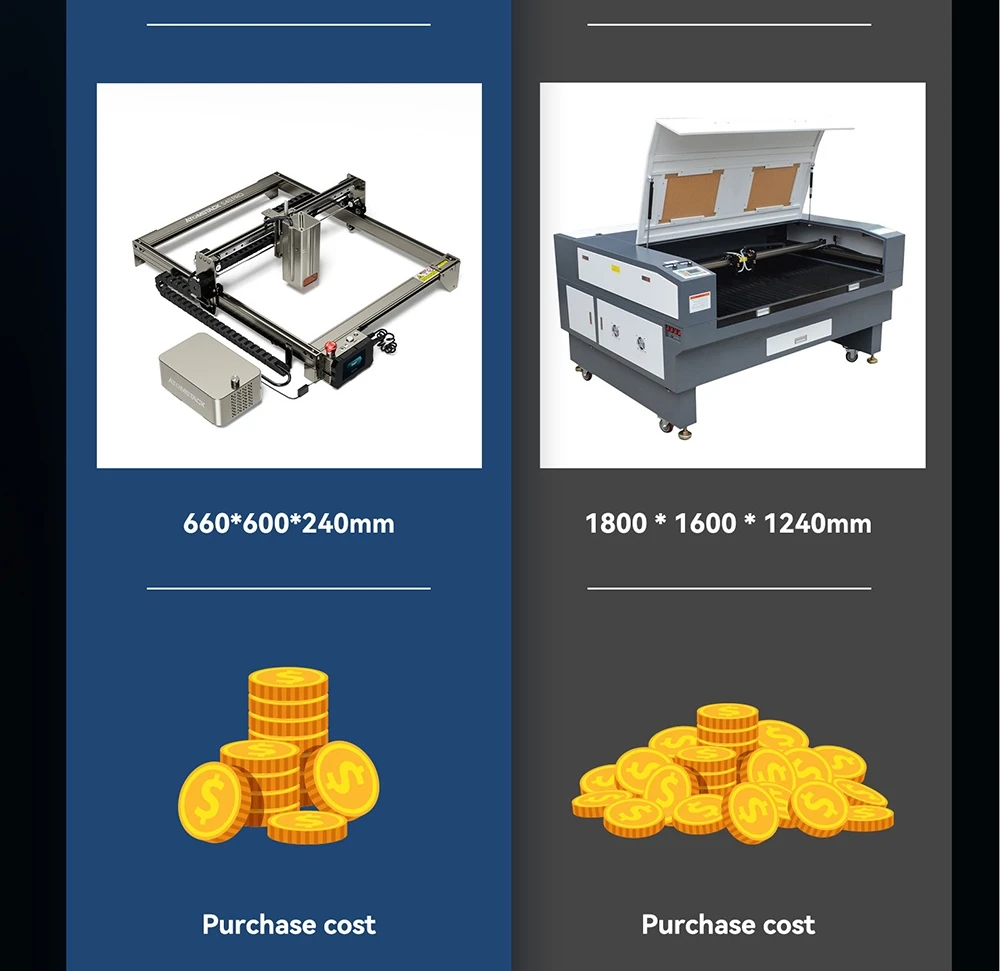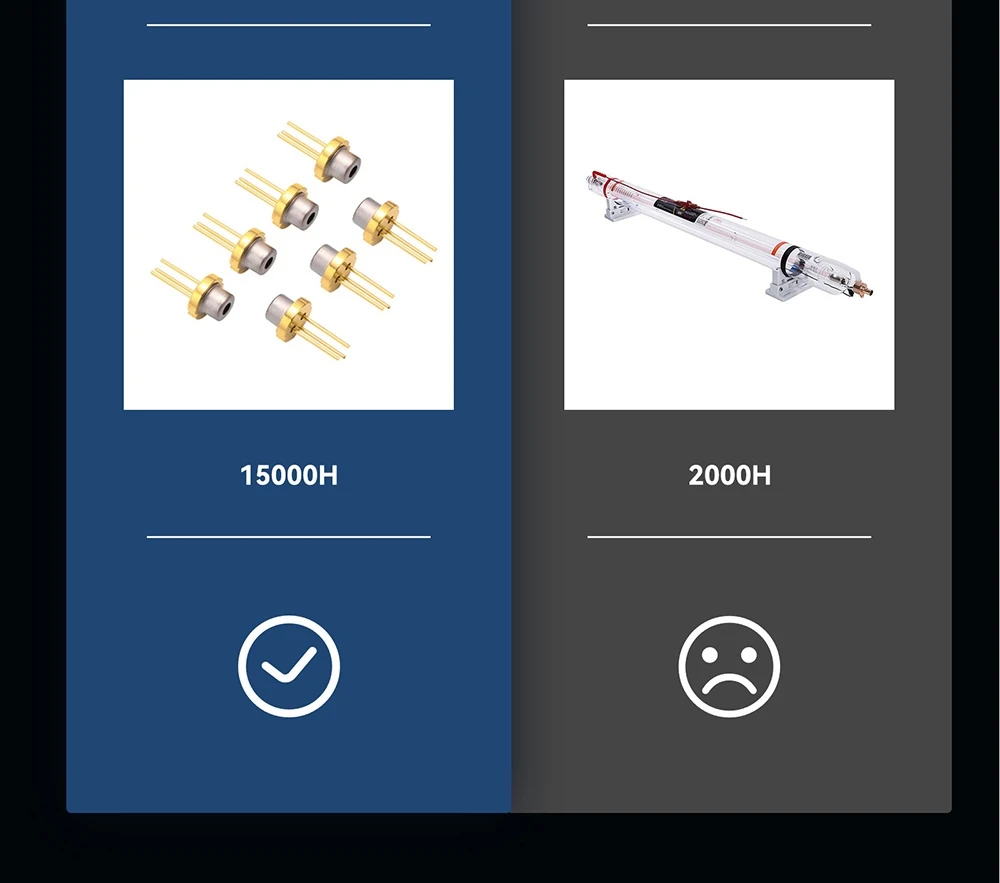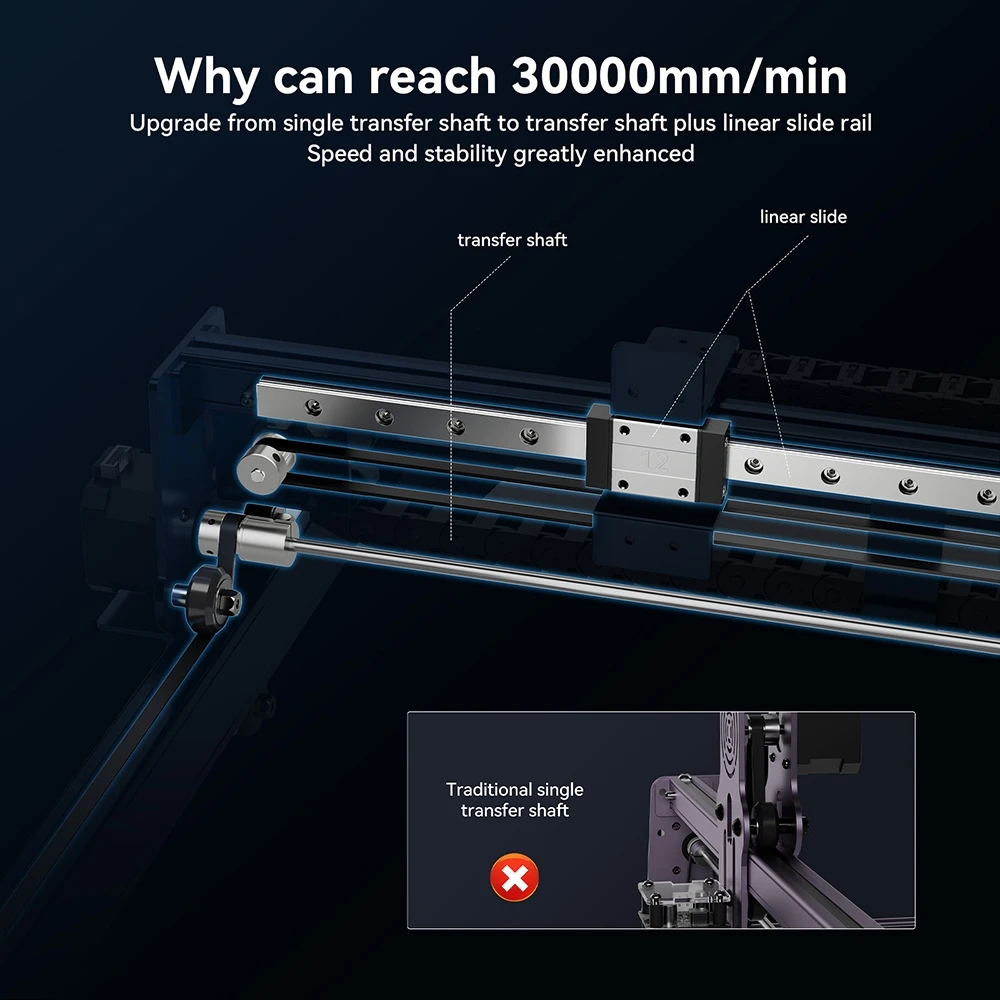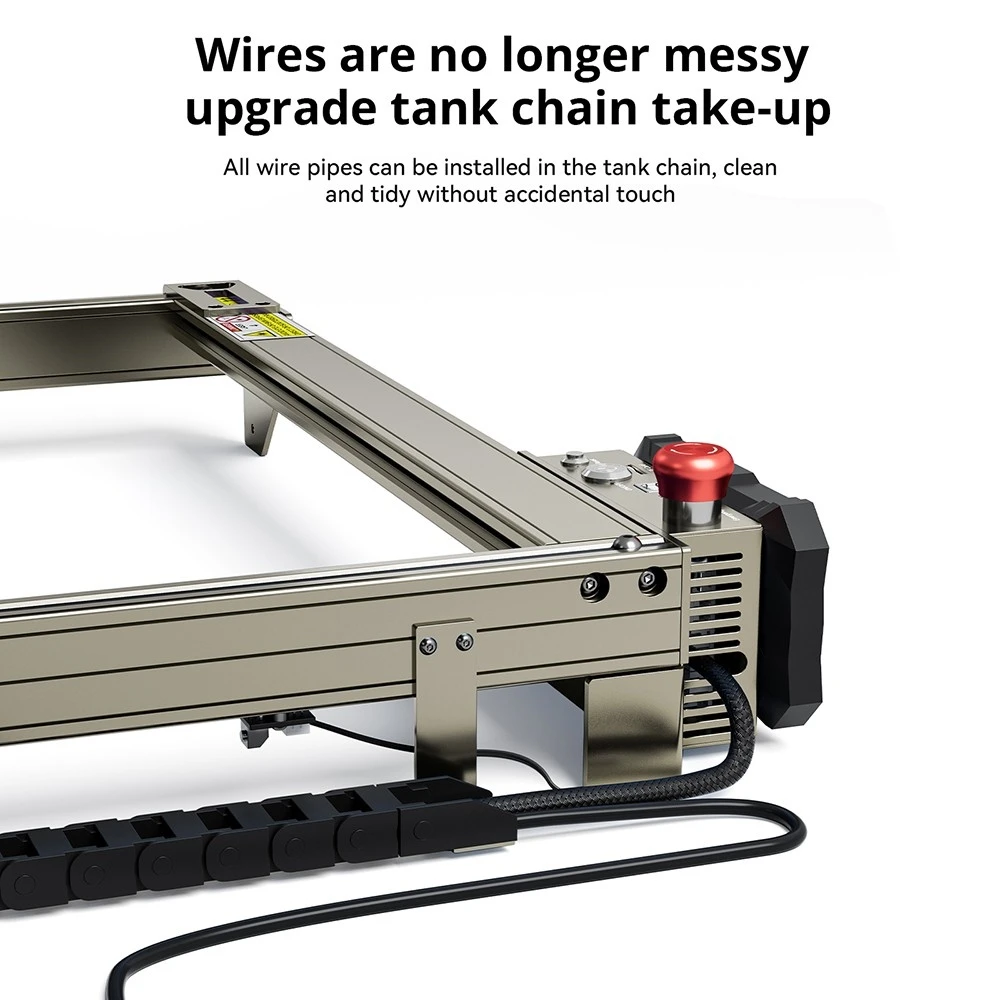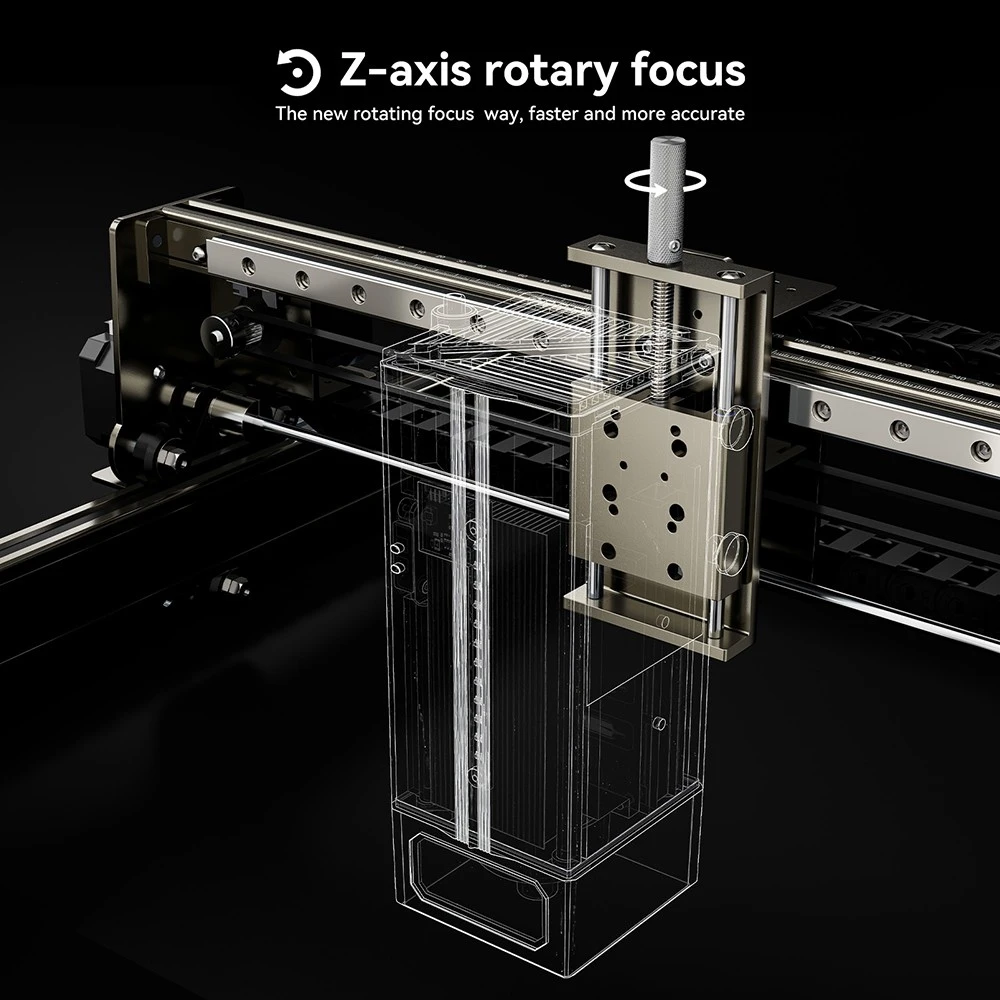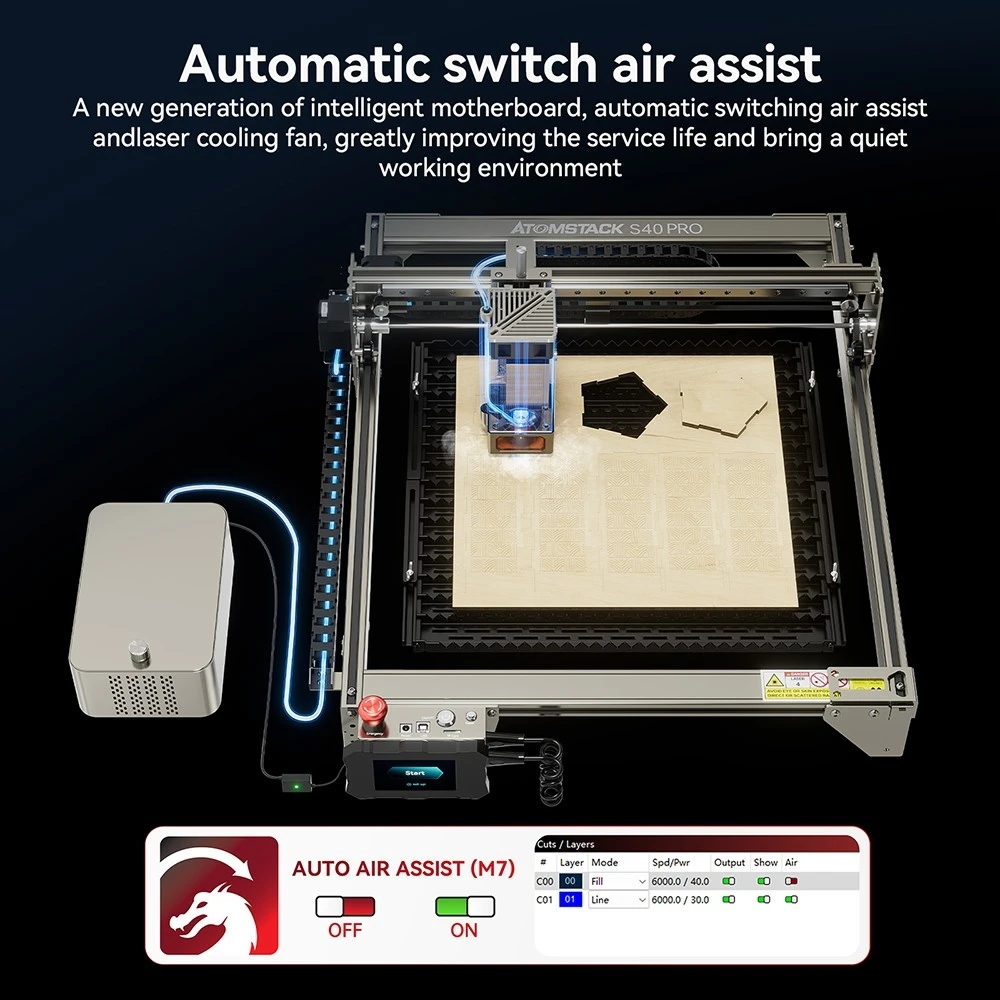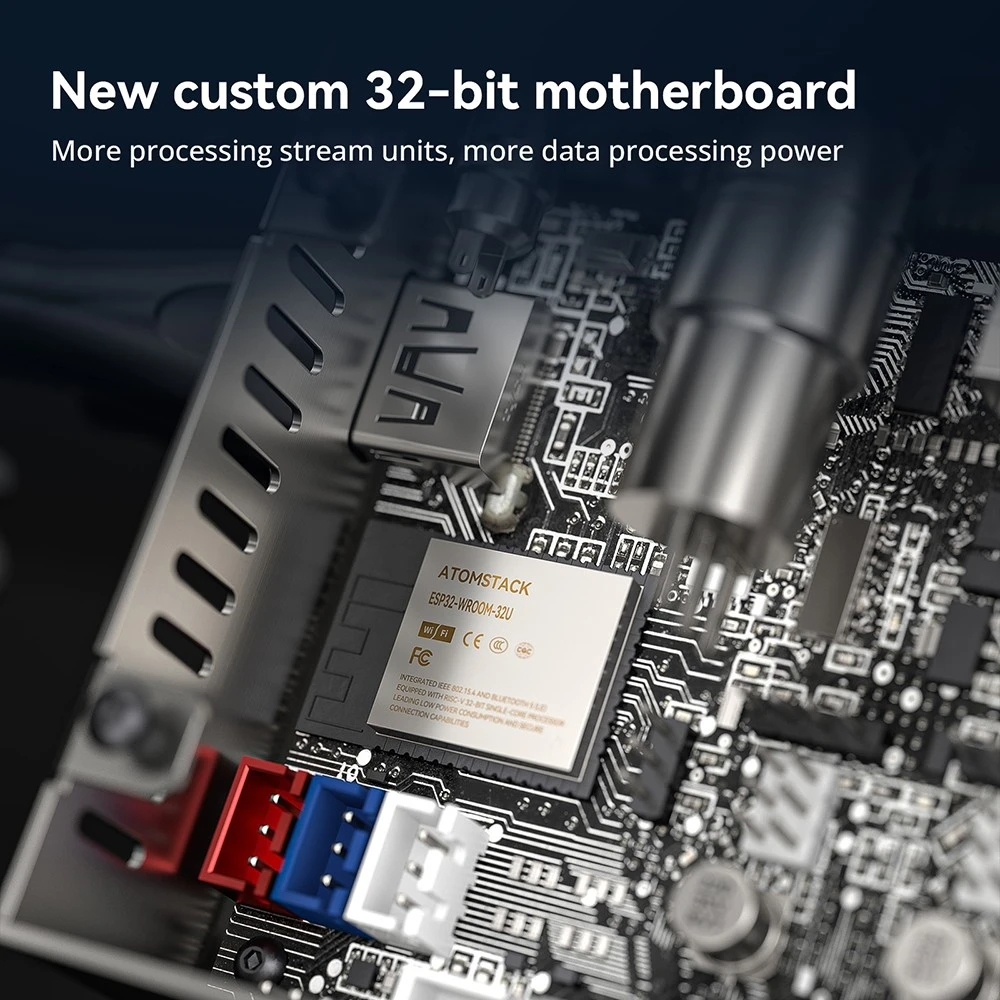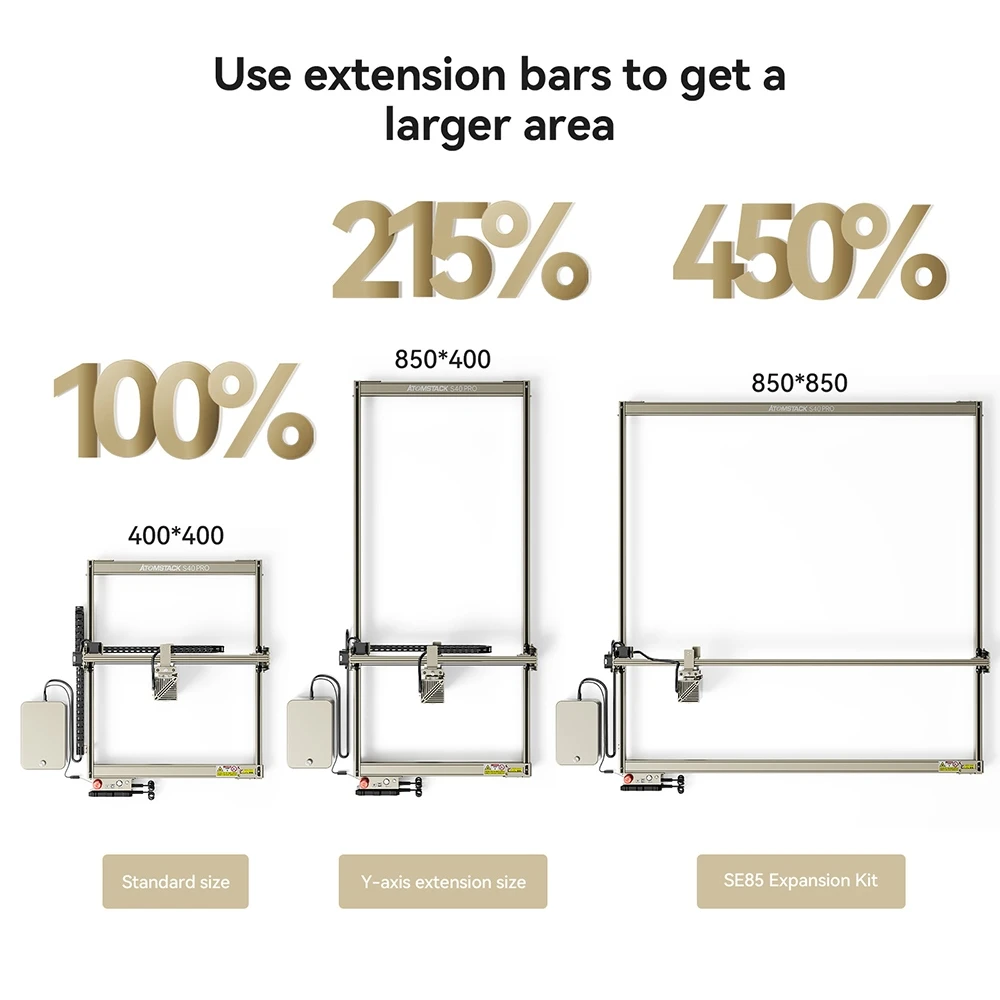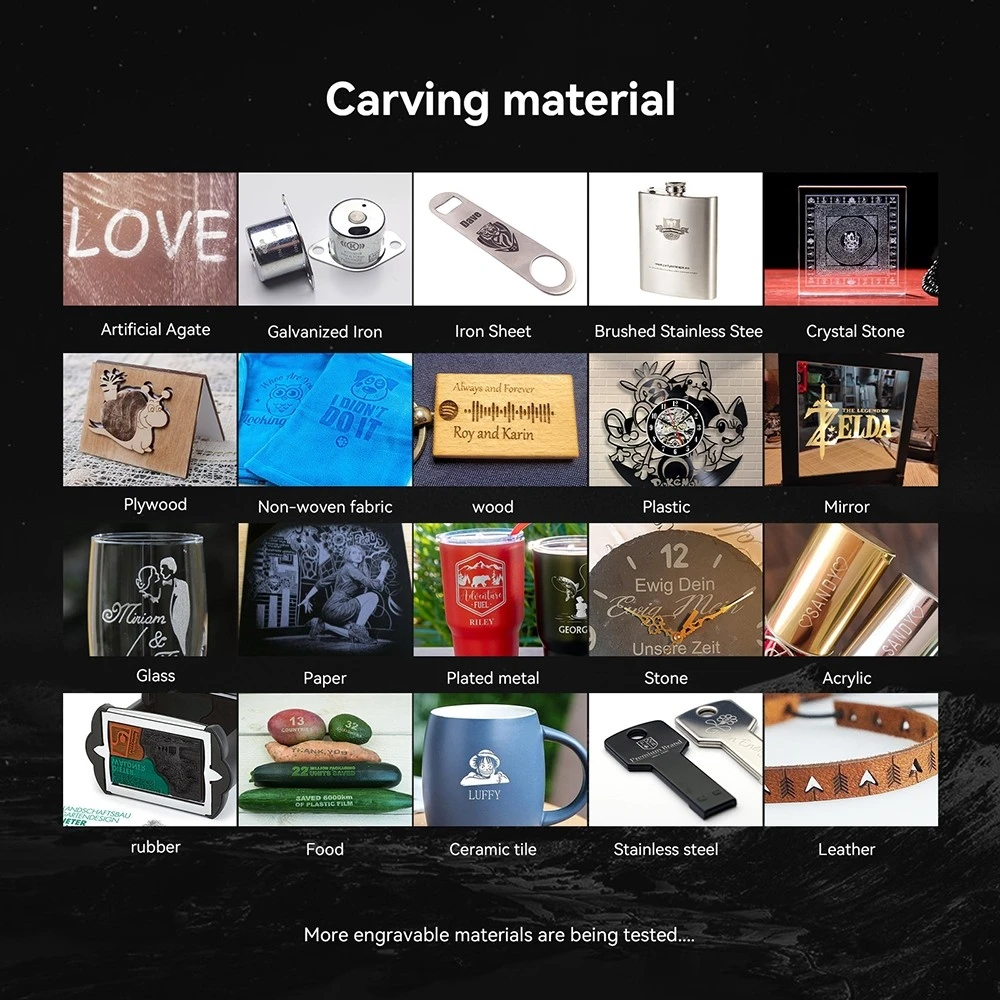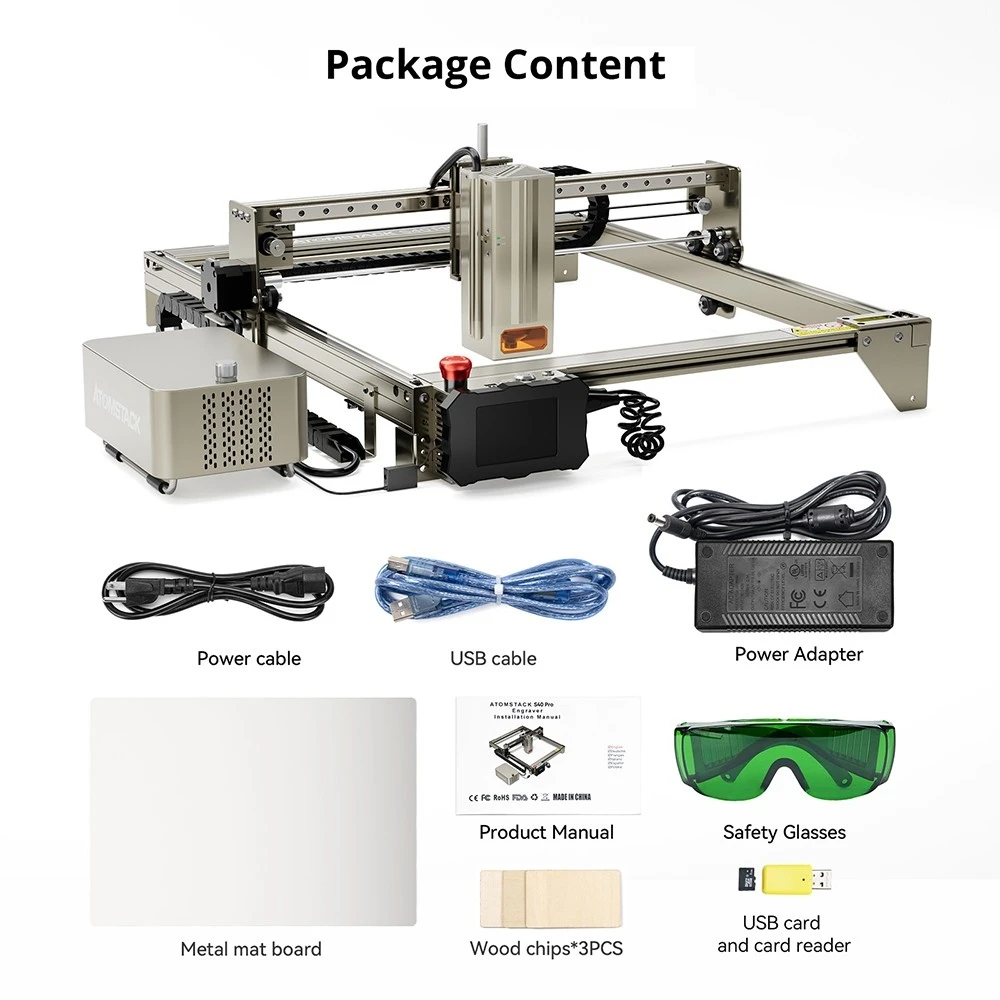 Specification
General

Brand: ATOMSTACK
Type: Laser Engraver
Model: S40 Pro
Color: Gold Grey

Specification
Engraving size: 400*400mm
Engraving material: wood, bamboo, cardboard, plastic, leather, PCB version, alumina, non-reflective Radiated electroplated and painted metal, 304 mirror stainless steel, glass, ceramics, cotton, slate.
Cutting materials: cardboard, non-woven fabrics, wooden boards, plywood, acrylic (transparent needs to be painted black), some thin plastic boards, sponges, aluminum and stainless steel, and other metal sheets.
Machine power: 210W
Laser power: 180W (in cutting mode)
Laser output optical power: 40-48W
Laser wavelength: 455±5nm
Engraving accuracy: 0.01mm
Focusing method: fixed focus laser, no focus adjustment required
Laser protective cover: There is a protective cover on the laser to protect the user's eyes without the need to wear additional goggles. At the same time, it prevents pets from scratching the laser point
Operating software: LaserGRBL, LightBurn, supports Win XP/Win 7/Win 8/XP/Win 10 system
Supported file formats NC, BMP, JPG, PNG, DXF,
Data transfer method: USB connection
Power supply: Input: 110V AC, 60Hz; Output: 12V 8.5A
Certification: CE FCC RoHS FDA PSE
Weight & Size
Product Weight: 10.5kg
Package Weight: 12kg
Package Size(L x W x H): 72.2x42.6x17.3cm
Package Contents
1 x Linear Guide X-axis Assembly
1 x Profile on the Base
1 x Base Lower Profile
1 x Laser Module
2 x Tank Chain
1 x F30 Pro Dual Pump Air Assist
1 x Mounting Screw
1 x Tool Bag
4 x Foot Pad Foam
1 x Fixed-focus Film
3 x Acrylic Sheet
3 x Wood Chips
10 x Wire Tie
1 x Desiccant
1 x Hair Brush
1 x Clean Cloth
1 x Card Reader
1 x TF Card
1 x Power Adapter
1 x Data Cable
1 x Y-axis Left Profile
1 x Y-axis Right Profile
3 x Foot Bracket
1 x Goggles
1 x User Manual