Performance You Can Always Count On
The HAWK comes equipped with superior 1200W front and rear dual high-speed motors, giving a combined power of 2400W, and is powered at 60V. The 9 mosfet 27A sinewave controllers deliver precise control over the motors, and 10-inch tubeless all-terrain tires offer fantastic grip and enhanced protection against punctures.
High Capacity and Durable Battery Life
YUME HAWK sports an EV-grade battery using 21700 cells with a total capacity of 60V 22.5Ah and averages 43 miles in range with full charge (terrain-dependent). The scooter also supports dual charging. The Hawk's battery management system features multiple safety sensors, including over-current, short circuit, abnormal temperature, overcharge, and over-discharge protection.
Adjustable Hydraulic Suspension System
HAWK is equipped with phenomenal adjustable hydraulic shock absorbers which ensures a much smoother ride. Together with the premium hydraulic shock absorber, a proprietary C-shaped front fork design combined with two 10-inch all-terrain tires significantly improve comfort grip and control. With just a simple turn of the dial, you can adjust the rebound to your liking - keep it highly dampened for high-speed rides on the road or give it some bounce for tackling rough terrain off-road.
Illumination & Hydraulic Disc Brakes
The HAWK's combination of front and rear hydraulic ZOOM oil brakes, 160mm discs and electronic EBS control provides excellent response control and braking performance. The HAWK uses bright headlights made from aluminum alloy to illuminate the path ahead. Brake lights and turn signals also come as standard fittings. The deck and stem are also lit via inbuilt LED lighting which can be programmed via remote to suit your preference or style with a range of color and strobing configurations. Night rides will never be the same!
Large Display with App Control and NFC
The large center-mounted display with app connectivity (iOS and Android) and NFC lock and unlock. The massive display clearly shows all important telemetry data and is easily viewable at a glance under bright sunlight. Bluetooth connectivity is also offered to connect to either an Android or IOS app which logs log.
Strength, Agility and Control
The HAWK's frame is built with aviation aluminum 6061 which is recognized for its outstanding strength. Rather than being welded, the frame of the HAWK is created using a one-piece molding process, ensuring sturdiness and reliability. The HAWK handles all kinds of roads and terrain effortlessly, adapting well to a diverse range of riding conditions.
Folding Mechanism
The Hawk's folding mechanism uses a strong ring buckle design for a positive stem lock. The length of the clamp is oversized and lined with rubber padding to ensure a powerful grip free of play and protected from vibrations. While designed for strength and stability, the Hawk's folding mechanism is also extremely easy to use and folds easily within a few seconds!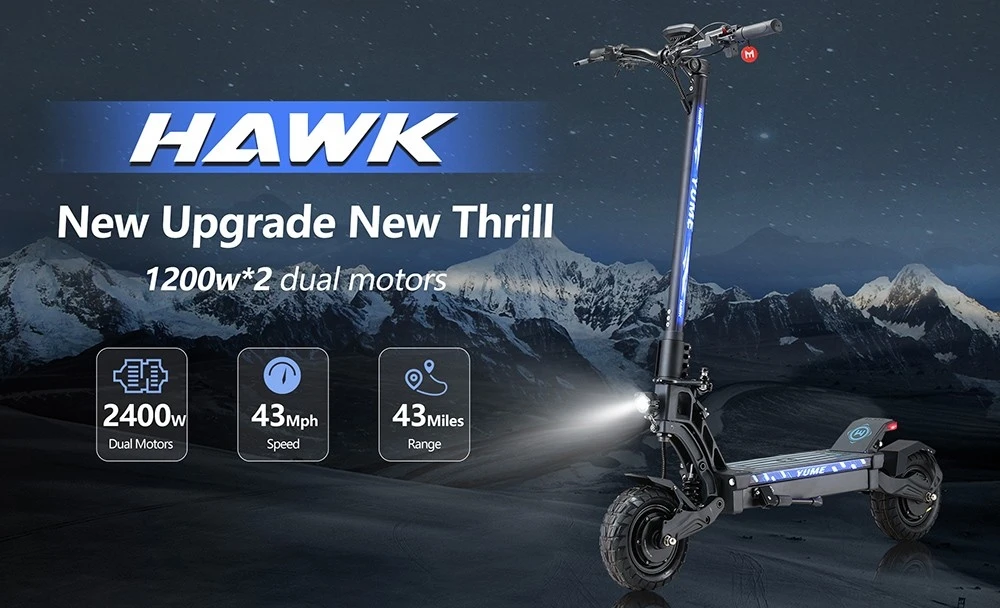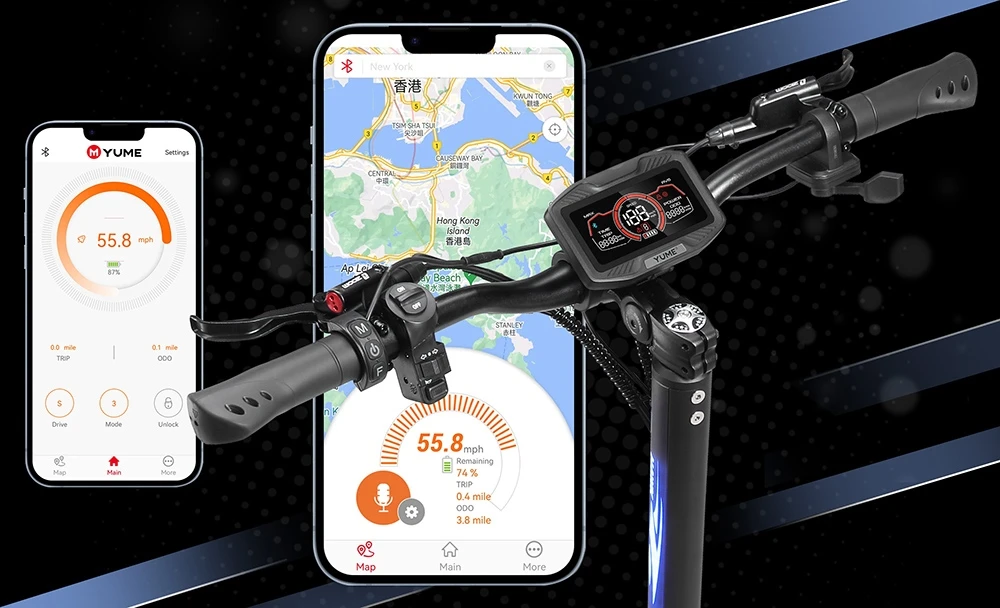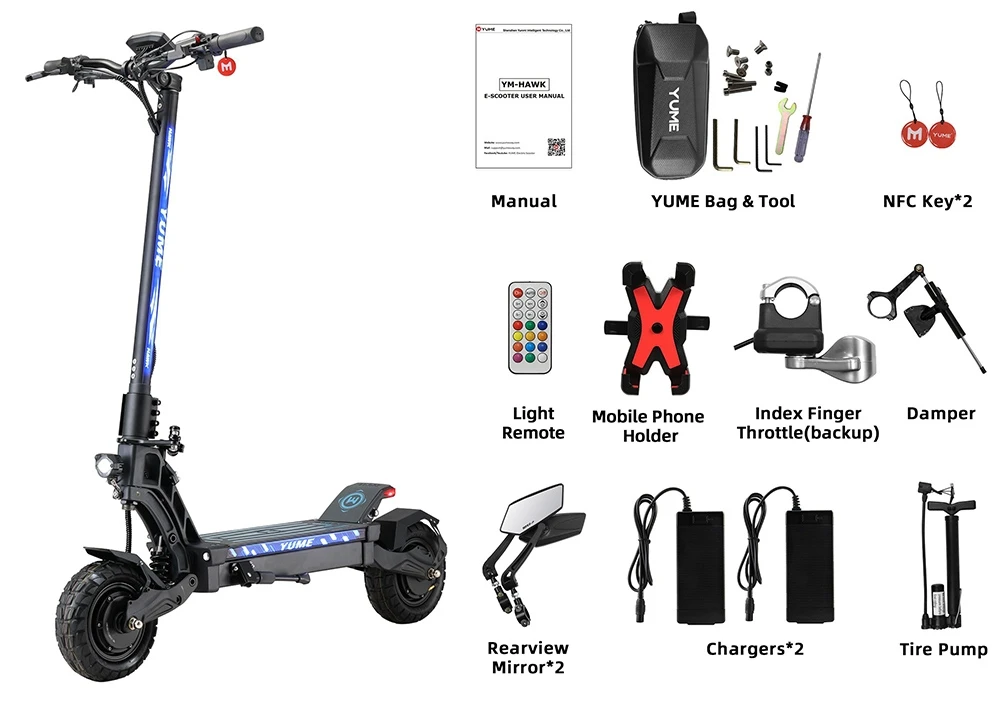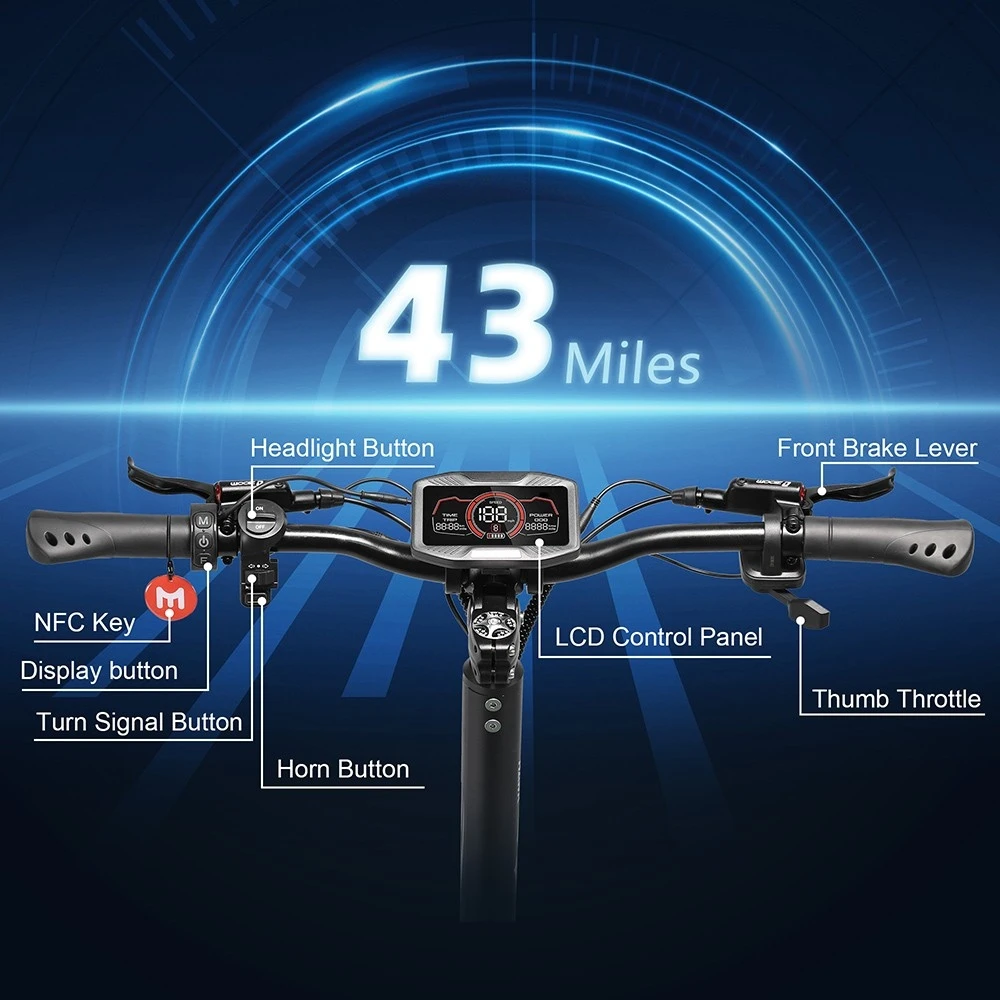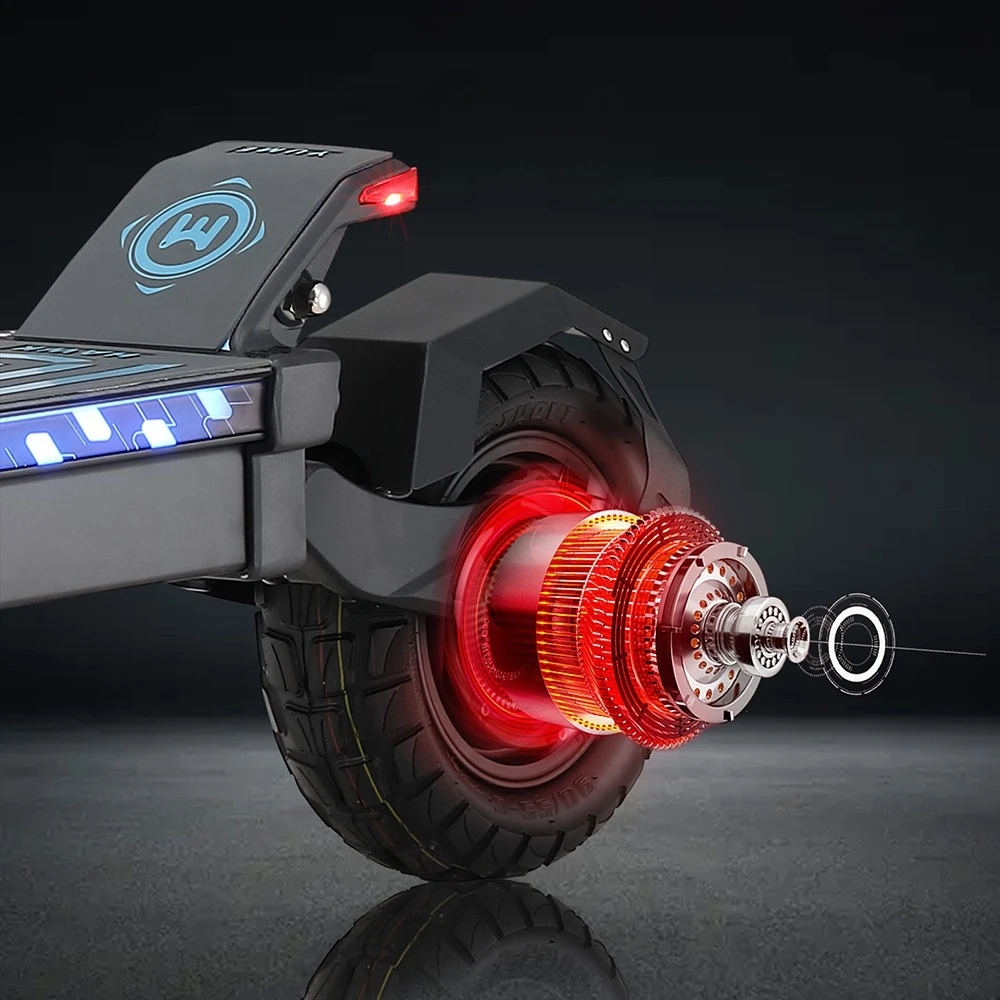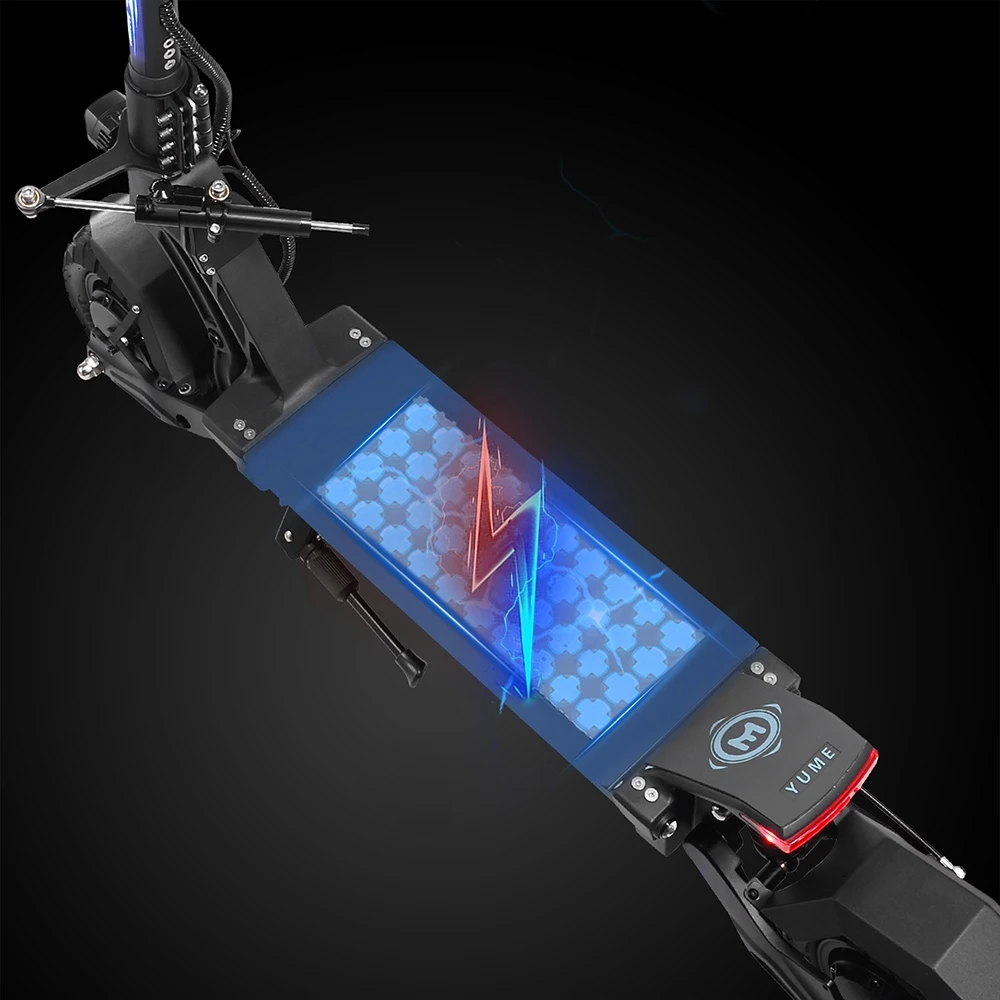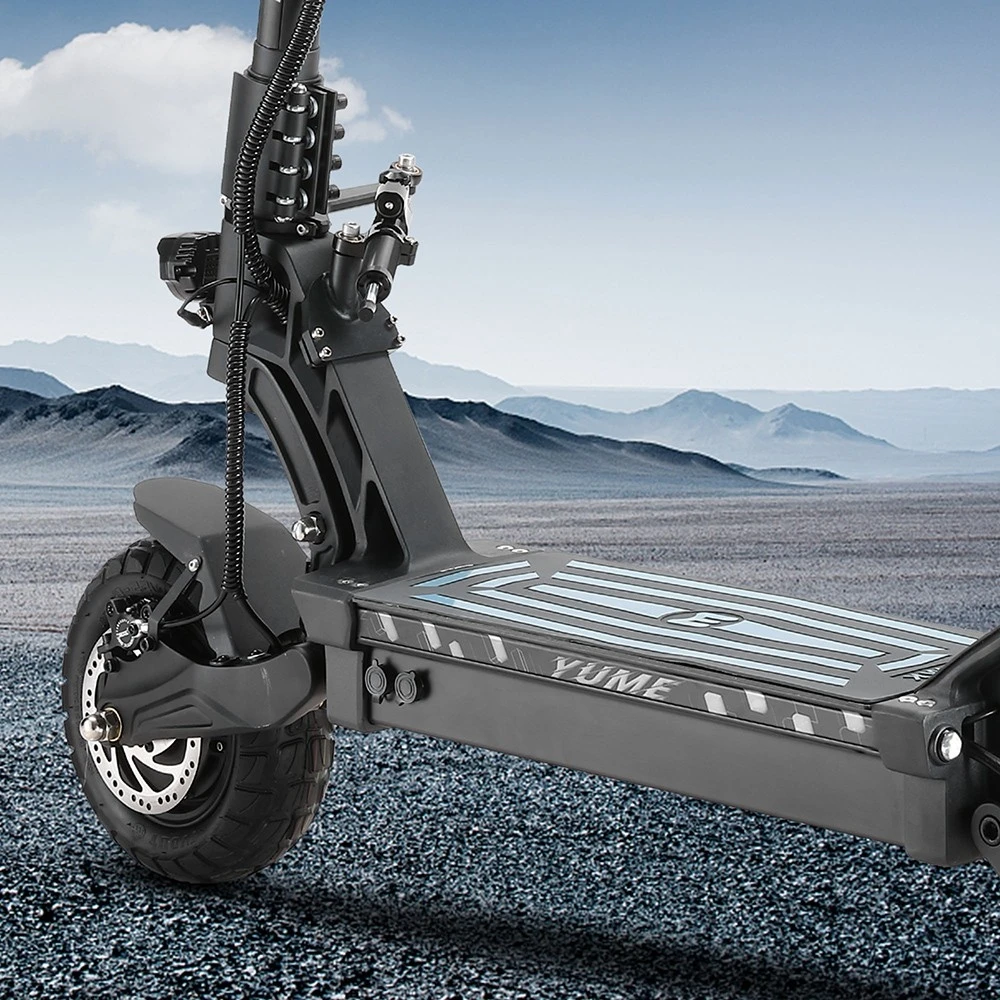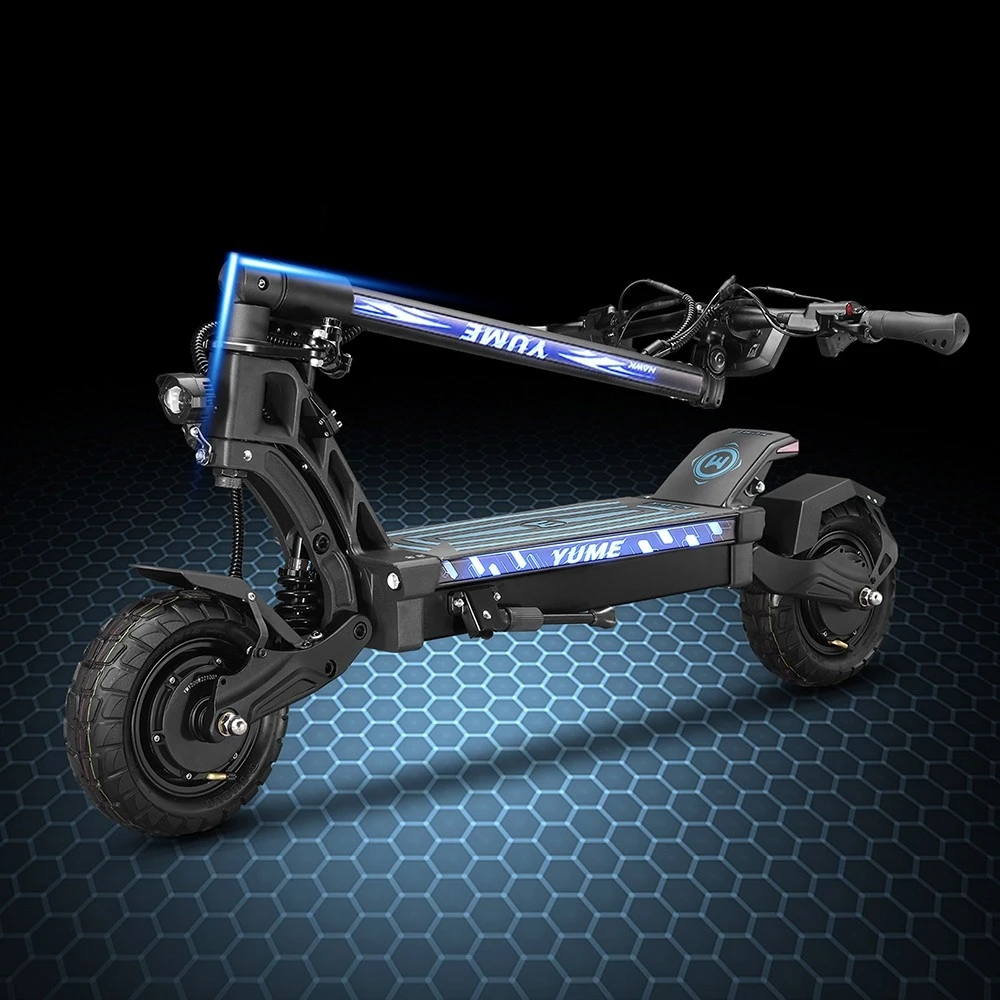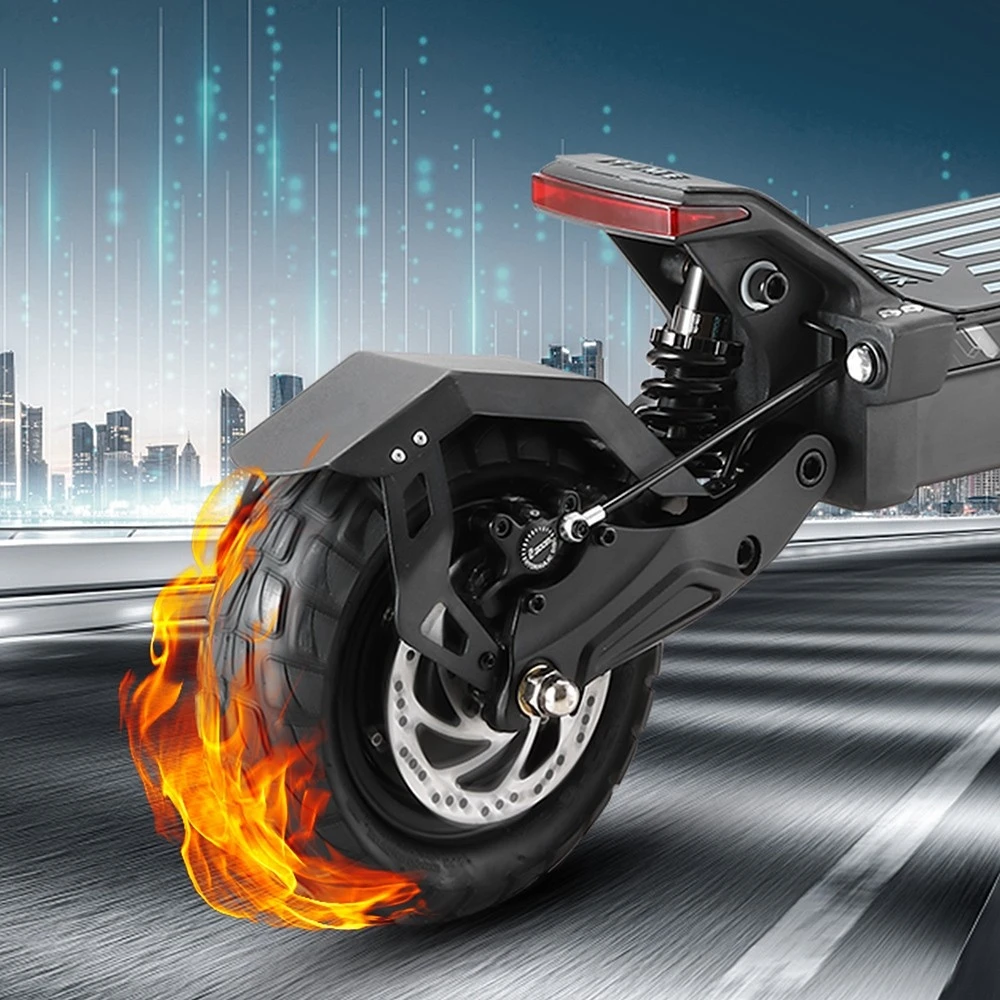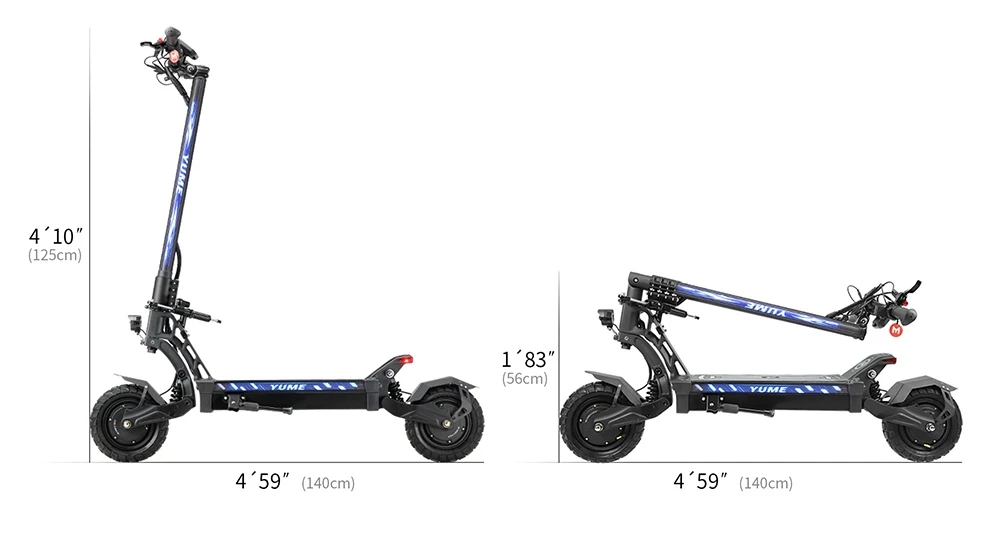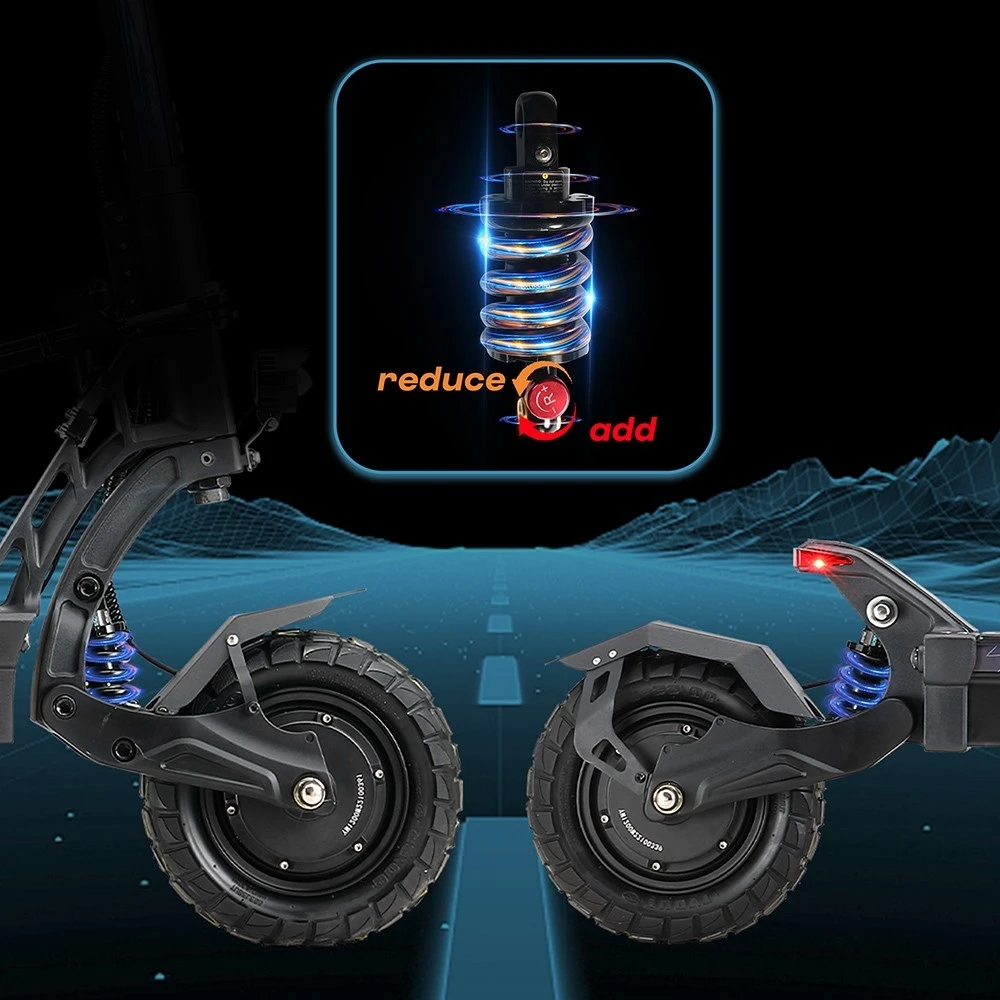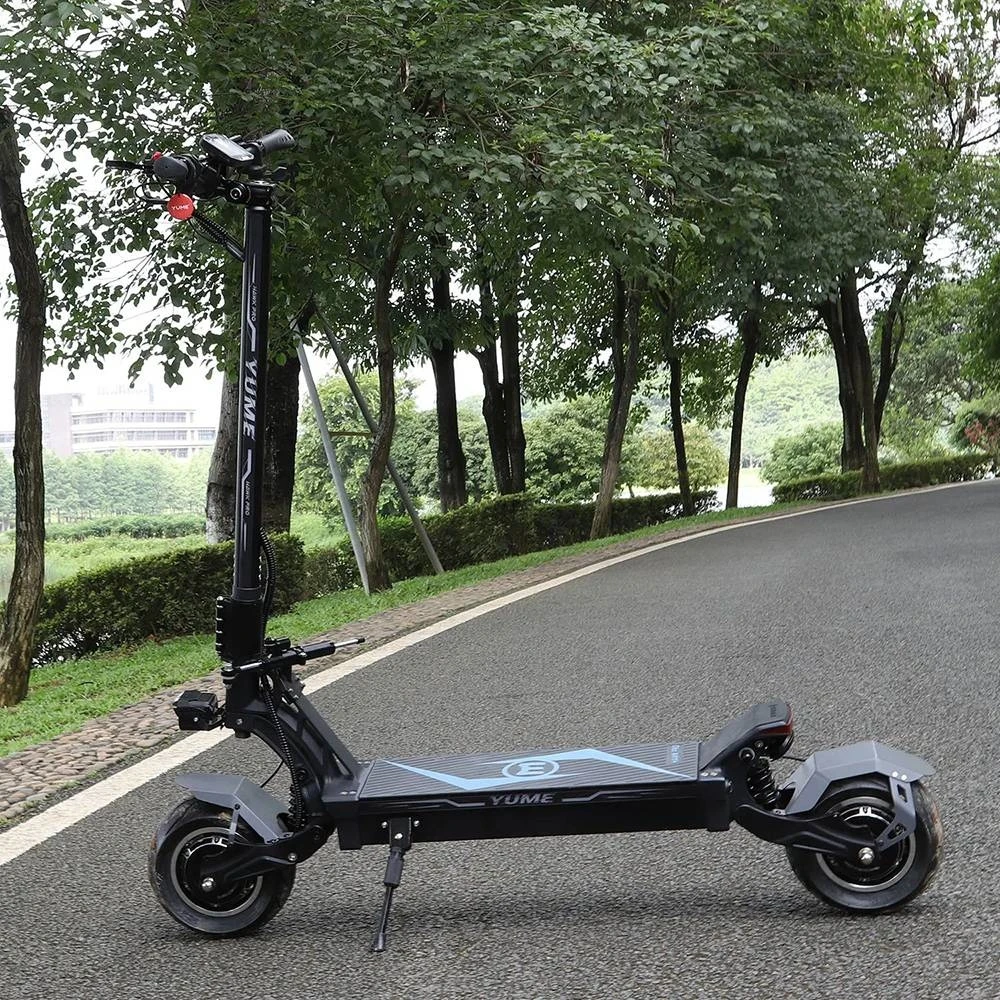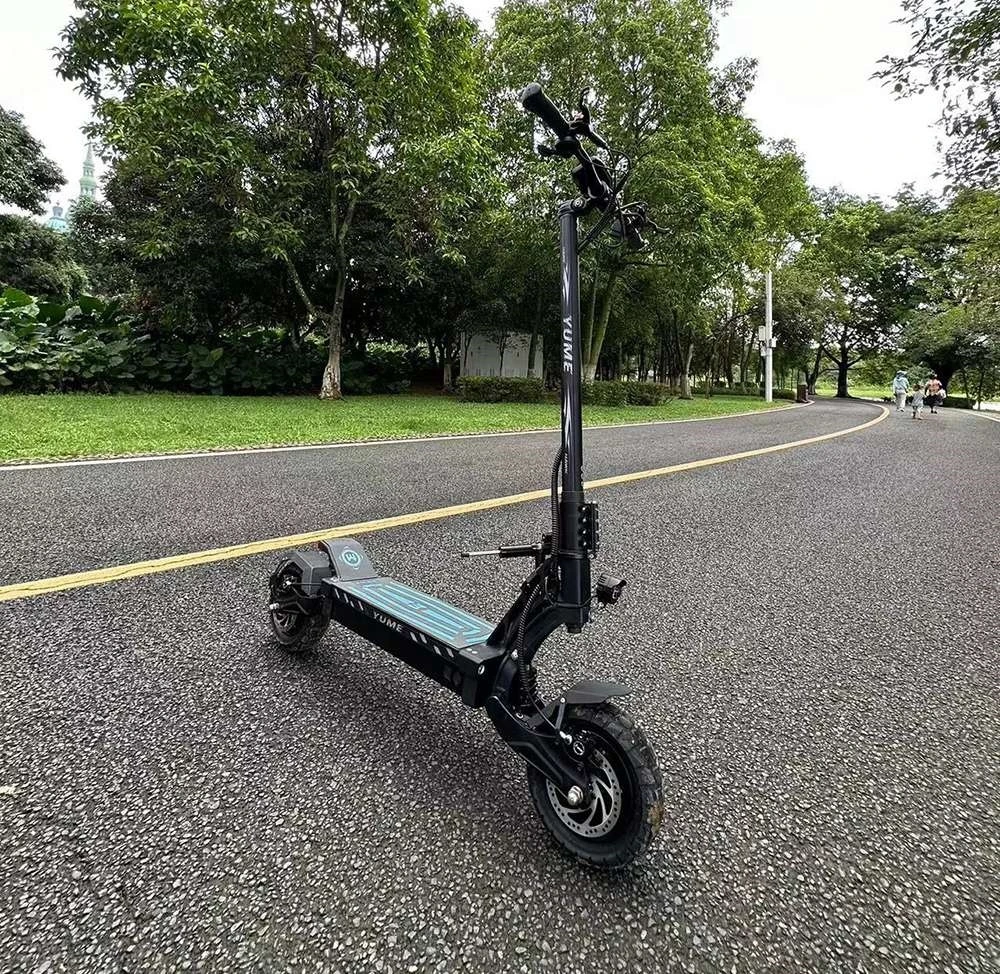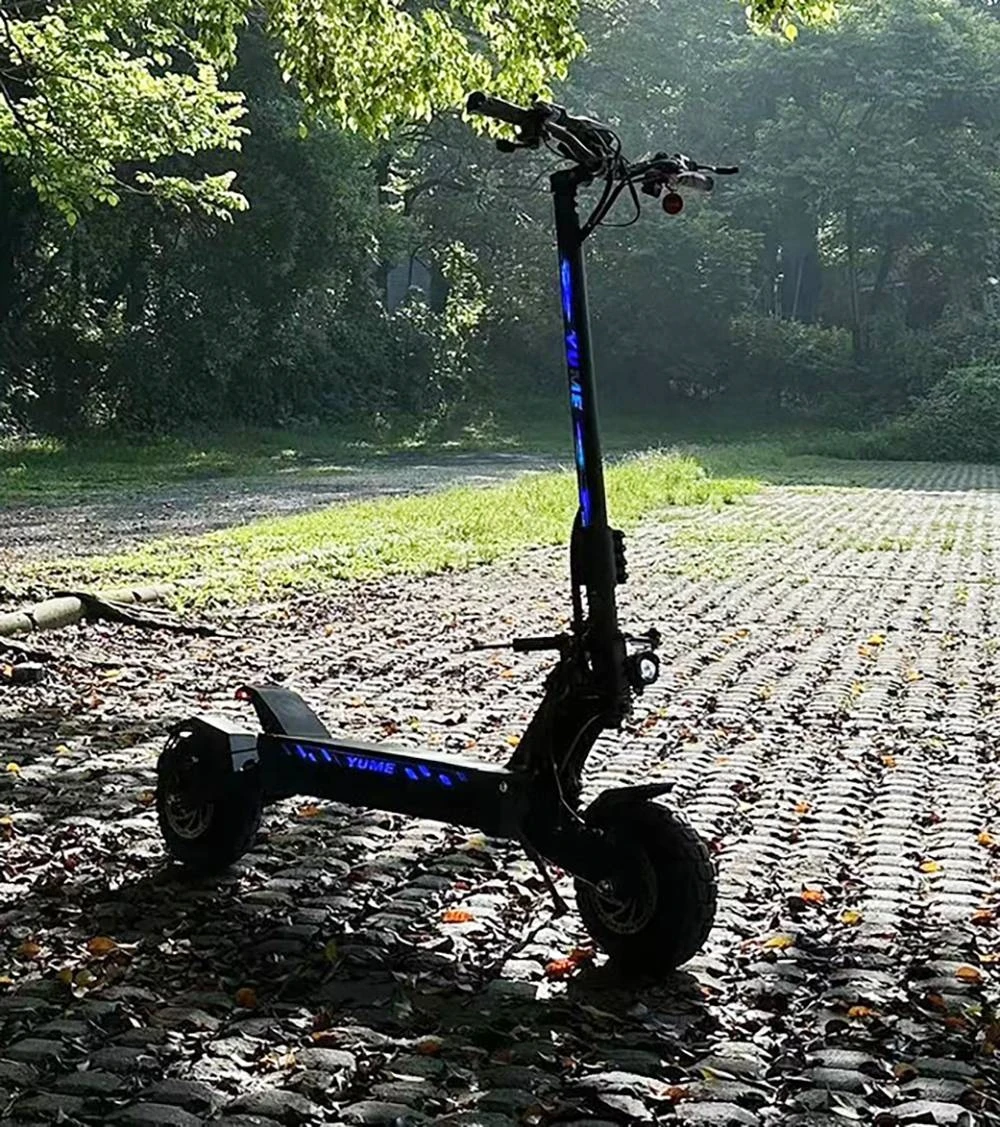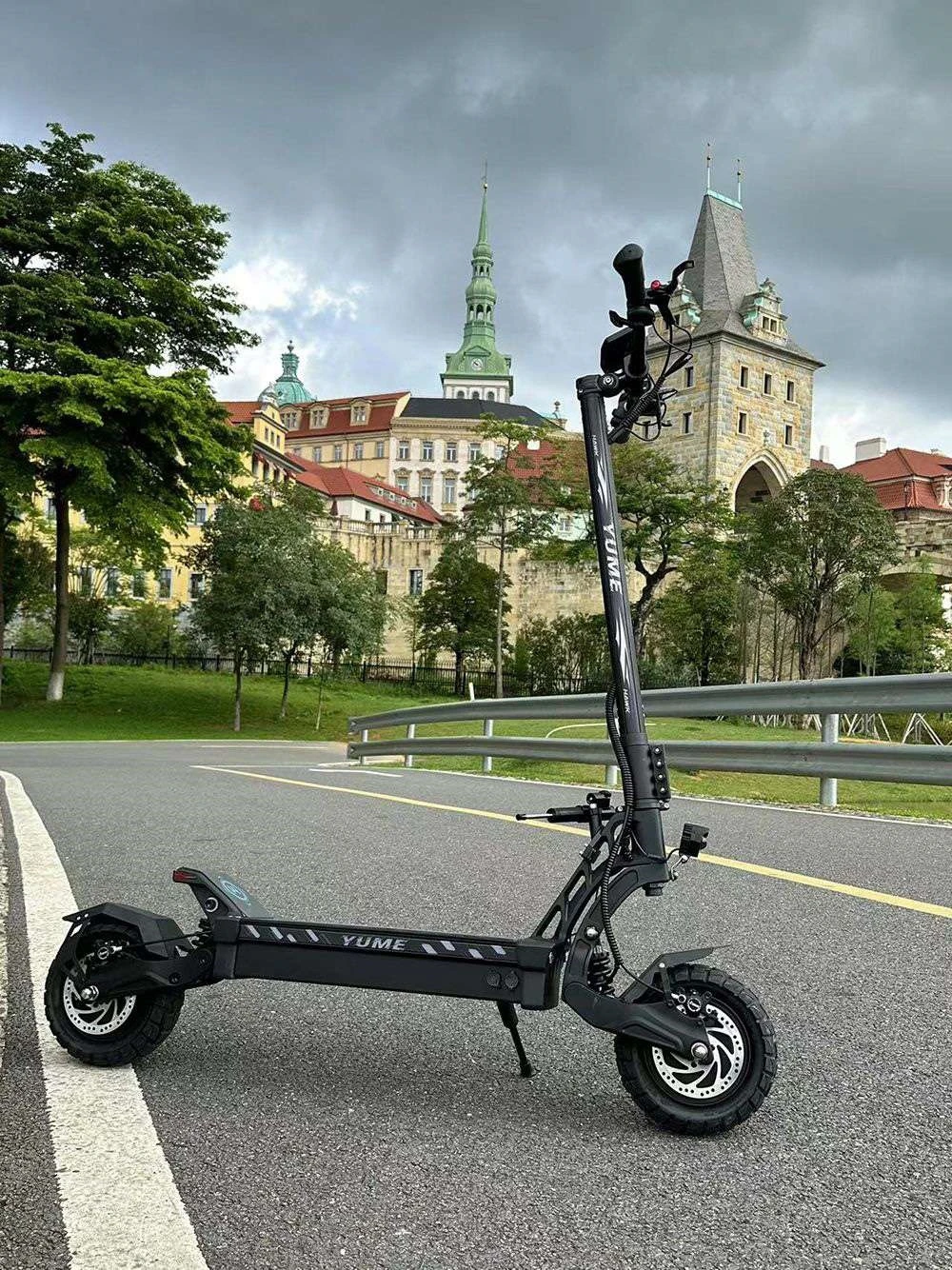 Specification
General

Brand: YUME
Type: Electric Scooter
Model: HAWK

Specification
Motor: 1200W*2 dual motor with hall sensor
Controller: Sine-Wave 27A max current controller
Max Speed: 70km/h 43mph
Max Range: 43miles (In test Condition), 30miles (in Complex terrain at fast speed)
Battery: 60V 22.5Ah
Display Features: Riding mode setting ability, smart display with over heat protection built in IP65
NFC: 2 NFC fast response near field communication cards
APP: IOS/ANDROID YUME customize
Tires: 10x3.15" Tubeless All-terrain Tires
Brakes: Front and Rear ZOOM hydraulic disc brake with 160mm rotor and cooling fin pad
Front & Rear Suspension: Long length adjustable hydraulic coil-shock suspension
Lights: Aluminum front LED light + brake light + 2 turn signal + horn
LED Side Lights: Deck and stem colorful lights with remote control
IP Rating: IP54 for the whole scooter
Maximum load: 280lbs/126KG
Charger: Standard 2*2A chargers
Weight & Size
Product Weight: 35kg
Package Weight: 42kg
Product Size(L x W x H): 130 x 72 x 140cm, 130x 22 x 55cm (folded )
Package Size(L x W x H): 134 x 24 x 60cm
Package Contents

1 x Electric scooter
1 x YUME Bag & Toolkit
2 x NFC Key
1 x Light Remote
1 x Mobile Phone Holder
1 x Index Finger Throttle(backup)
1 x Dampener
2 x Rearview Mirror
2 x Chargers
1 x Tire Pump
1 x User Manual